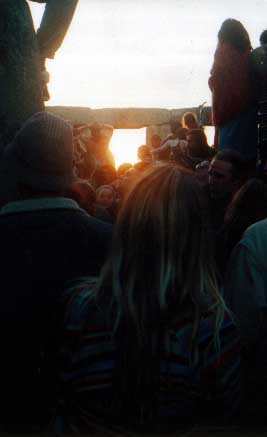 http://www.phreak.co.uk/stonehenge/psb/scna109.htm
---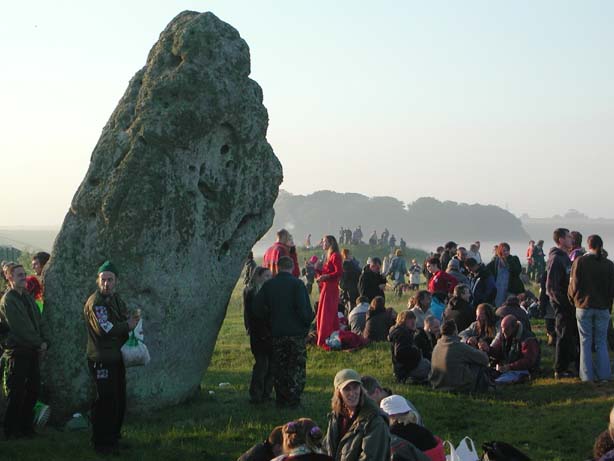 ~

LONDON STONEHENGE WALK 2001
Was peaceful, beautiful, generally dry... the kids loved it, no foot and mouth problems(unlike the cancelled Brighton/South Downs walk) and had a sporting theme! The Vikings played badminton, Zonk Star stole first base at four in the morning, Emperor Ming was the goalie and Stuart the long-distance unicyclingchampion.
We found a Tardis and stood in trees, mystifying rural police on several occasions.
We went by the source of the river Test and had to wade some footpaths, busking and flyering in the towns, hiding out in the woods round the pot, with conjouring tricks and guitars.
After 3 weeks walking it was unbelievable to be in the centre of 14,000 people on solstice night, a swirling cauldren of shining silver sugarcube green initiation that I couldn't possibly describe.

The Walkers generally avoided the main carpark and holed up contentedly at Wood henge for a

few days.
The 18th London- Stonehenge Walk leaves Battersea Park peace pagoda June 1st 2002.
Very highly recommended!!! jes

---
NATIONAL TRUST RESOLUTION
ON TUNNEL AT STONEHENGE
N.T. members are voting on the 27th October at their A.G.M. on a proposal against a tunnel that will hide roads from the visible Stonehenge landscape but permanantly damage surrounding ancestral land.
"A road beneath the ground does not disappear from consciousness or sensibility" "In the history of Stonehenge the motercar may soon be a moment gone.
We should not contemplate radical invasive symptoms of a disease that must be cured by other means."
The National Trust council, however, is recommending members to vote against the resolution and pave the way for compromise desecration.
Postal votes in by 19th Oct or give your opinion of the tunnel scheme, long known as the 'Master Plan',at the Barbican on the 27th.

---
After the Stonehenge2001 solstice gathering
many of the 14,000 people present wanted to spend more time together to continue in the celebration of the solstice.
The authorities made it very clear that there would be no tolerance for an after party, and they did in fact actively prevent a party from forming.

This is obviously a radical misunderstanding of the value of "the party" to our society.
The Stonehenge peace process has demonstrated goodwill and sincerity on the part of the authorities.
The peaceful gatherings at Stonehenge have demonstrated our ability to work together in collaboration and to police ourselves.
Yet the situation still exists where there is so much fear of the party culture - worldwide! - this is as much a dinosaur from the '80's as the Stonehenge conflict was. -
www.thewarpexperience.org/stonehenge

The Party Party was born to dispel this misunderstanding, to take responsibility for and to heal that which is unhealthy in our culture, to promote all that is positive about "the party," and how society benefits, and our essential human right and need to celebrate our lives.
The Party Party is a voice for all of us, especially those who cannot find any home in the current political landscape.





www.ThePartyParty.org
bringing the party back into party politics

---
---
---
---
---
---
Letter to September Stonehenge Newsletter:

Sat 23 March 2002 Tribal Voices Benefit Gig @ Glastonbury Assembly Rooms
www.dicenews.com/tv


Sun 24 March 2002 2-3pm Free Stonehenge Talking Circle @ Glastonbury
Assembly Rooms


Tribal Voices tapes 1,2,3,4 are on sale again.
Checkout the website or a member.
CD5 is being produced now.
07970-378-572



Letter From Karelia 13sept2001

June was spoilt by Spiral Tribe Sunny's death.

July I sulked and visited mum's hospitals and mechanicked my bus.

August Rainbow Circle Camp was 9/10 - listening circles and food
and fun and music and childminding and rumours and
family squabbles and healings and strength and growth and love

Happy Autumn! george 07970-378-572 www.dicenews.com

PS Friday night is the longest so December Solstice Sunrise
is Saturday 22nd (unless it's cloudy).


---
S.C. Appeal ~ Stonehenge Campaign Appeal

The Stonehenge Campaign exists to lobby, campaign, attend meetings, raise public awareness, and maintain links with interested parties for the reinstatement of the Stonehenge Peoples Free Festival and of religious access to Stonehenge itself, and to protect the Stonehenge landscape and environment.

The campaign hosts monthly meetings in London from September to May (except January) to which all are welcome.
We always need help with money, stamps. stationery, artwork, info and dates of events, gigs, demos, festivals, gatherings etc.
We also welcome letters and emails for possible inclusion in the newsletter to give a wide selection of views.

Stonehenge Campaign c/o 99 Torriano Av, London NW5 2RX
www.dicenews.com/stonehenge ~~~ stonehenge@stones.com
---
This is the end of the Stonehenge Campaign's
2001 Summer Solstice Newsletter webpage


,            ______      _________    _______            ,
,          /  Free  \   / The     \  / Stones \          ,
,          \________/   \_________/  \_______ /          ,
,       ____       ___           ___         ____        ,
,      /    \     /    \        /   \       /    \       ,
,     |      |   |      |   o  |     !     !      !      ,
,     |      |   |      |  m   |     !     !      !      ,
,                                                        ,

, Stonehenge Campaign c/o 99 Torriano Av, London NW5 2RX ,
,  ,


---

more webpages:
Stonehenge | Campaign | Newsletters |
Stonehenge2 | SchNEWS | Guilfin |
[less frames] | www.dicenews.com ].


... please email us: stonehenge@stones.com
The Stonehenge Campaign
c/o 99 Torriano Av
London NW5 2RX
(End of http://www.phreak.co.uk/stonehenge/psb/scna109.htm )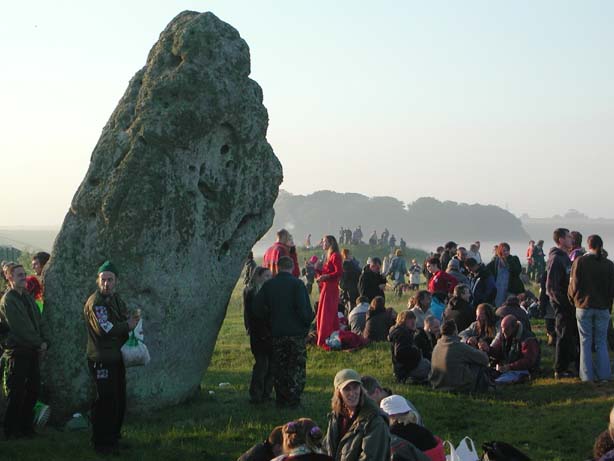 Thanks for these webpages.