Freedom For Stonehenge Conference 16,17,18 May 2014
at The George Hotel, Amesbury.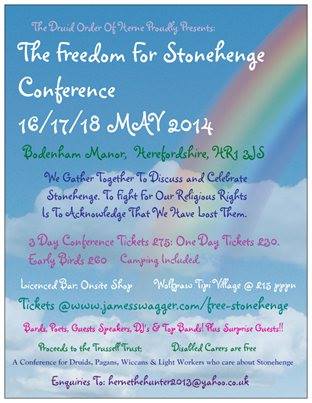 MAGIC HAT ,
TO SAVE THE CONFERENCE.
Due the determination of many, this Conference must go ahead, so, after a wonderfully unexpected and most generous donation, which will cover the cost of hiring Function Rooms for the three days. It has been agreed that the issues that have been allowed to hide in darkness, must be shown the light, to this end, we invite all those who passionately want to see the truth come out, those who want to learn more about the history of the Temple Stonehenge, those who have anything to share regarding Stonehenge, be it the Roads or the ticket fees, the lack of access for Pilgrims, to the exploitation of our Sacred Burial Grounds of our Ancestors, or the lack of "Gathering" "permitted", to attend on May 16/17/18 @ The George Hotel, Amesbury.
---
---
---

NOT AT Bodenham Manor Herefordshire Wiltshire Druid Order of Herne Proudly presents:
Freedom For Stonehenge Conference

Druids, Pagans, Wiccans, Lightworkers, Jedi's and Peoples of Albion, during the weekend of May 16/17/18, 2014, there will be a unique opportunity to come together to discuss the issues surrounding our Religious Rights in the UK, the Commercial Exploitation and the Fate awaiting the Stonehenge Temple at the Center of the Ancient Familial Burial Grounds of Salisbury Plain. The Conference will be held in the Beautifully Peaceful setting of Bodenham Manor, deep in the Heart of Herefordshire. With World renowned Guest Speakers, awesome Musicians, Poets, Singers, Surprise Guests, and a Dedicated Crew, this will be a very special weekend. It is our hope, that if Spirit guides you to join us for the Conference at Bodenham, that you come in a spirit of Peace, Trust, Love and Hope for a Beautiful Future. /|\

The Bodenham Manor Venue is based in Herefordshire, England, HR1 3JS adjacent to the border of Wales. Facility rooms, and basic accommodation is available, the ticket price for the 'Free Stonehenge Event' is £30 day ticket, £75 weekend ticket which includes camping at the venue. The event will take place on May 16th, 17th, 18th 2014. Please book in advance for your eTickets below. You will be supplied with a reference number and confirmation which you will need with you at the venue.

GPS LOCATION: 52° 9' 33.44" N 2° 41' 34.00" W

£30 Day ticket / £75 weekend Ticket LIMITED NUMBER AVAILABLE.
Early Bird Tickets are available @ £60 LIMITED NUMBER AVAILABLE.
Tickets available at: http://www.soundawesome.com/services/StonehengeConference
Disabled Attendees: Carers go free Please Call 07936384170
---