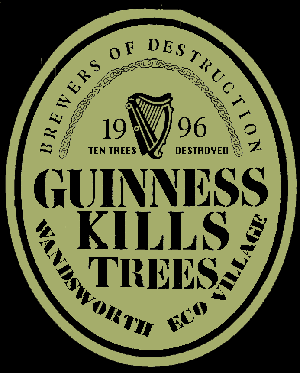 wwecovil.htm - Wandsworth Eco Village
by george
see the Land Is Ours website http://www.oneworld.org/tlio/
sometime I'll put stuff here!
see dice1996.htm
see my notes on the eviction on 15 October 1996 -
---
The Land Is Ours - 'Pure Genius' Wandsworth Eco Village (1996) - 6 min - Aug 5, 2008
http://video.google.com/videoplay?docid=276552421817948576
Wandsworth (Guinness site) In May 1996, 500 TLIO activists occupied 13 acres of derelict land along the banks of the River Thames in Wandsworth. The land, owned by Guinness, had been vacant for six years, but was scheduled to be the site of a superstore (the ninth within a 1.5 mile radius) and luxury apartments. Raised-bed veggie gardens were planted and a village was constructed of recycled materials. Locals were involved in building and running the eco-community, and thousands of folks came to visit. After holding the "Pure Genius" occupation for almost six months, 150 people on site were ousted by bailiffs acting for Guinness. The eco-village was destroyed. Incredibly, Guinness won an Ecology Sponsorship Award in Geneva the same week that they ordered the eviction.
---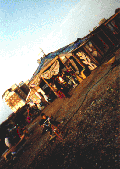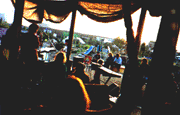 ---

From: L***
To: "Diggers email List" diggers350@egroups.com
Subject: [diggers350] Fw: 4th Anniversary of Pure Genius Site
Date: Thursday 4 May 2000 05:32 am
Subject: 4th Anniversary of Pure Genius Site
Date: 03 May 2000 16:21
Calling all non-violent activists - Reclaim your vision and come to Wandsworth this Friday!!!
Peaceful Pavement Protest - Friday 5th May 12pm - outside old-Guiness site on York Road, Wandsworth.
Against 5 New 16-Storey Tower Blocks - Planning Policy Precedent along the banks of the Thames?
4th Anniversary of Pure Genius Site
Friday 5th May is the 4th anniversary of the Pure Genius land occupation. To mark this occasion, a Peaceful Pavement Protest outside the entrance to the site at 12.00pm has been organised, which will also be publicising the imminent threat of high-storey development WHICH MAY LEAD TO A PLANNING PRECEDENT ALONG THE RIVER THAMES.
On May 17th Wandsworth councillors will decide whether to give the go-ahead for five new tower blocks on the riverside next to Wandsworth Bridge. Their planning committee has already recommended a 'FOR' vote. The Land Is Ours says that plaguing the banks of the River Thames with high-storey development will be no tall order if this development goes ahead and sets a planning precedent just before the Mayor acquires Strategic Planning Powers for riverside buildings on June 1st.
Joint statement by the Battersea Society, Wandsworth Society, Putney Society, Tonsley residents Association, West London River Group, Planning Aid for London, Gargoyle Wharf Community Action Group, Thamesbank :
Amenity societies and residents' associations in Wandsworth are almost unanimously AGAINST for the following reasons :
1.. These buildings would be 16 stories and 191 ft tall, like five new Montevetros, standing higher than St.John's Hill.
2.. The council's own guidelines state that "building heights should not generally exceed six storeys" on this stretch of river
3.. IF COUNCILLORS GIVE PLANNING PERMISSION, IT WILL SET A PRECEDENT WHICH WILL MAKE IT VERY DIFFICULT TO REFUSE PERMISSION TO BUILD TOWER BLOCKS ON ALL THE REMAINING INDUSTRIAL RIVERSIDE SITES IN BATTERSEA, WANDSWORTH, PUTNEY AND FULHAM.
4.. We want a cohesive policy for buildings along the Thames, not a different height for every site. IT WOULD BE BETTER TO WAIT TILL THE NEW MAYOR OF LONDON ACQUIRES STRATEGIC PLANNING POWERS FOR RIVERSIDE BUILDINGS ON JUNE 1ST.
5.. This area has one of the country's biggest concentrations of 1960's tower blocks. Everyone admits they were a mistake. Let's not repeat that mistake by building tower blocks along the Thames.
We ask you to write to your local councillors and urge them to vote AGAINST this proposal on May 17th and to insist on A SUBSTANTIAL REDUCTION IN THE HEIGHT of these buildings before they go ahead.
Order more copies from Judith ***
Local Contact : Bruce ***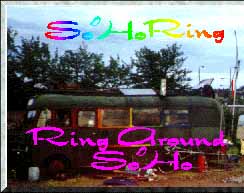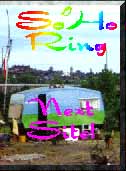 wishlist.txt


Topsoil & compost**
-----wishlist
486 laptop computer with mass processor, modem, 12v printer
Batteries - 12v
Boilersuits/whites
Cast iron boiler
Cooking pots - large**
Discs - 3 1/2"
Eco-friendly cleaning materials
First aid equipment
Food and spices - dried goods, rice etc
Fruit - organic
Fruit/nut trees (dwarf)
Gaffer tape
Garlic
Glass sheets/windows for greenhouse
Gong
Greenhouse plastic
Hosepipes and attachments
Kettle - large
Linseed oil
Musical instruments
Old car tyres
Paint and brushes
Polyprop
Rope and long string
Sitex threaded bar 1/4"
Solar panels
Tarps
Tea tree oil and other essential oils
Teapots
Toilet roll - unbleached, recycled, biodegradeable
Tools - axes, matchets, tin snips, spikes, nails. Also gardening
tools.
Topsoil & compost**
Trailer
Van
Violin music for beginners
Visiting healers, yoga teachers etc.
Wheelbarrows
wishlist
Wood - firewood, building timbers





---
more photos:
john
poppy
court
New Age Radio
May 2000 revisiting
---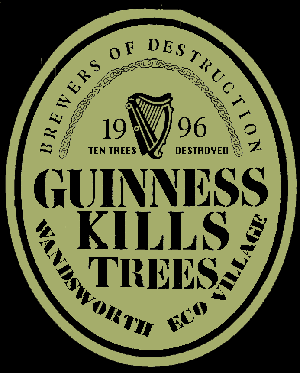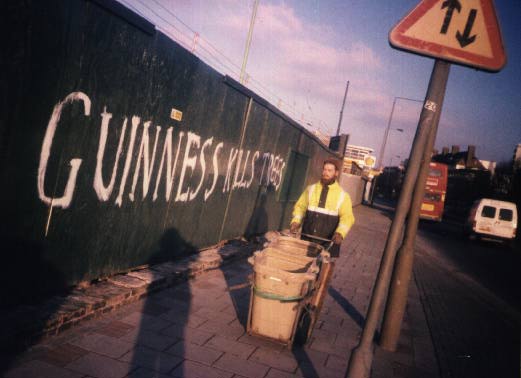 ---
return to Dice George homepage
---
end of http://www.phreak.co.uk/stonehenge/psb/wwecovil.htm
Thanks for these webpages.